Search Engine Optimization is the process of generating traffic and increasing a website's ranking in the search results. Commonly called organic or natural results, these are the 'Holy Grail' results companies strive for. Google, Bing, Yahoo and other search engines each have their own search results pages (SERPS) and through various algorithms, they decide what results are the most relevant matches to user searches.
On-Page vs Off-Page SEO
On-Page SEO
There are many things that can be done to optimize a website before worrying about external factors, such as link building. On-page SEO entails everything to do with ensuring your website is laid out correctly so that it can be clearly interpreted by Google. Correct architecture, page titles, image alt tags, meta descriptions, interlinking between pages and good keyword density allows Google bots to see your website for what it is.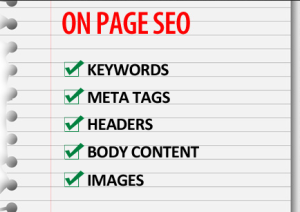 Sites with poor on-page SEO are essentially invisible to Google and no matter how much effort or money you pour into them they'll never rank successfully online.
Off-Page SEO
Off-page SEO refers to the actions you can take outside of the website to improve its ranking in the search results. This includes link building, social signals, and bookmarks among other things. It makes sense that a business or website is relevant if it's being discussed online in blogs and across social media sites. When people discuss a business online in posts or articles they often link to that website too, this valuable signal is called a backlink. Backlinks are a major part of off-site SEO and a powerful sign to Google that influences a website's ranking. The more useful a website is the more references or links it will have (Note: backlinks are about quality over quantity). 
The Process
Optimizing your website is a process that involves planning and constant maintenance. Selection of the right keywords is at the heart of the process, implementing good on-page and off-page strategies effectively and incorporating strong social signals are all part of the road to success.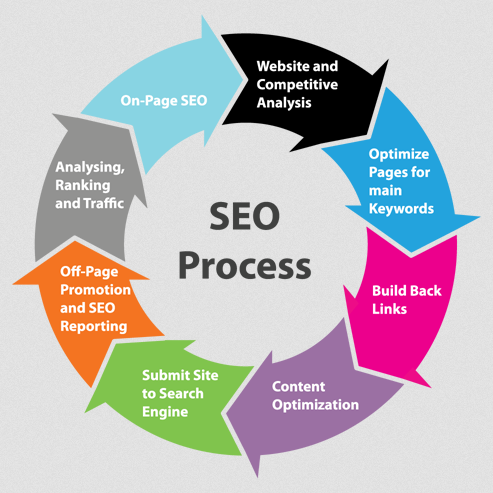 There is no quick fix to achieving your goals and no two companies are the same. The market you operate in and your competition are going to have a huge bearing on the speed at which you can achieve your goals.
Local SEO is much easier than national SEO, for example, "Career Counselor Palo Alto" is an easier term to compete for than "Career Counselor Los Angeles".

Niche markets are easier to rank in than broad competitive markets, "Luxury dog necklace" is easier to compete for than "dog collars".
SEO vs Adwords Facts
One is paid, the other is "free"

AdWords generates instant results vs SEO which takes time

People sometimes ignore ads and go straight to the organic results

The top 3 search results in the SERPS get over 60% of all traffic

Good on-page SEO practices will help boost your overall AdWords performance (see quality score)

Good keyword research is essential to any AdWords or organic SEO campaign